If you buy a current MSI motherboard, you might encounter problems when setting up Wake on LAN (WoL). This option does not work out of the box and the settings to enable it are not clearly marked. With this article I would like to remedy the situation.
WoL is the possibility to start a switched off computer via the built-in network card. The whole thing is made possible by so-called magic packets. If these are received, the computer is switched on.
---
Installation
In order to use Wake on LAN, the first step is to change the BIOS of your motherboard. For this you click on Settings -> Advanced -> Setup of reactivation events. There must then be the option Continuation by PCI-E device be activated.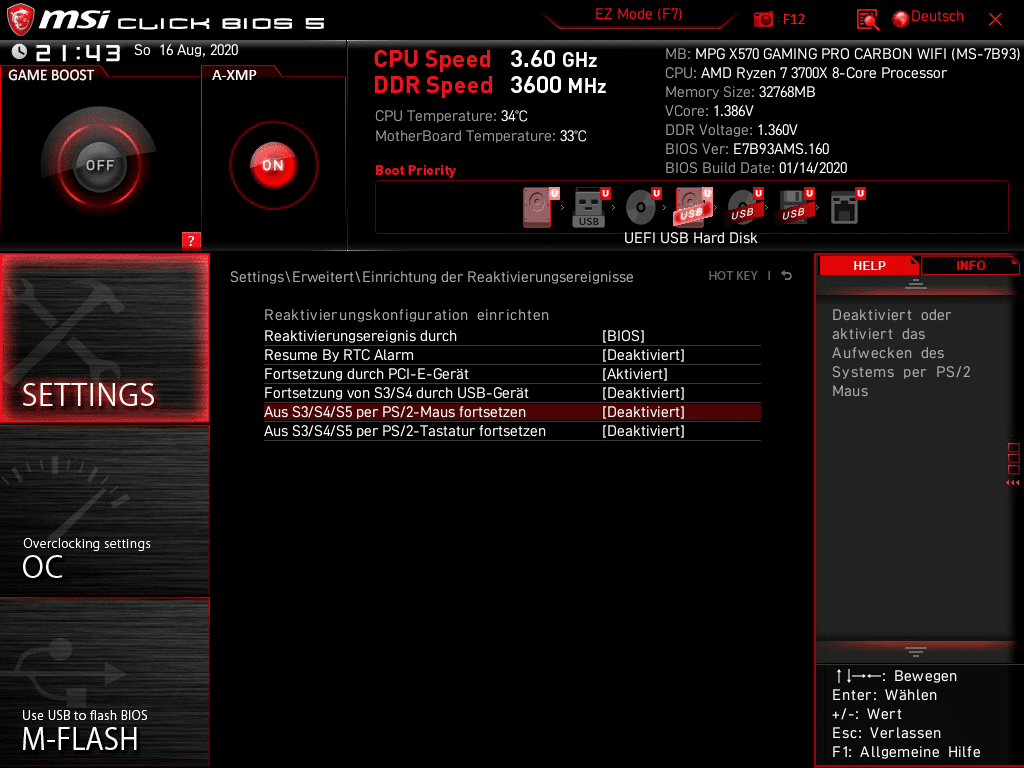 Save the whole thing and restart the computer. Unfortunately, this is usually not enough to actually use WoL. Windows needs additional drivers to transmit the Magic Packets.
If it is an Intel Ethernet (LAN) adapter, as in my case Intel I211 Gigabit Network Connection, then the very first thing to do is to install a driver from the Intel website, which is not covered by the default Windows drivers.
After a successful installation, more settings can be found in the settings of the network adapter. To do this, open your LAN network adapter in the device manager. Right-click on the adapter and click Properties.
Now you change from the General tab to the tab Power management and check if the hook at Only Magic Packet can activate computer from sleep mode is set.
Next you have to go to the tab Extended to configure the new settings. The following things should be checked for activity:
Activate PME
Act. via Magic Packet
This may not be enough to wake the computer from sleep. You should also disable Windows Quick Start. To do this, go to the Control Panel and enter in the search Energy options button. Now click in the left bar on Selecting what should happen when power switches are pressed and sees the following window.
Here you have to make sure that the checkmark at Activate quick start (recommended) is not set. If it is set and the boxes are grayed out, click on the blue font Some settings are currently not available and then deletes the checkmark.
---
Conclusion
With these precautions, Wake on LAN should now work for your MSI motherboard! If you still have problems, don't hesitate to ask in the comments. This tutorial is suitable for Intel network adapters but also for other motherboards.
You can test the whole thing with an app on your smartphone (under Android, download Wake On Lan from the Play Store), then locate your PC by IP and save it. Now you can start the PC through your smartphone. With a VPN connection to your home network, this is also possible on the road.
The setup I am using is an MSI MPG X570 GAMING PRO CARBON WIFI motherboard in conjunction with an AMD Ryzen 3700X on Windows 10.
Interested, but lack time or knowledge?
No problem. Contact me and we will discuss your requirements. No matter if business or private.
Interested, but lack time or knowledge?
No problem. Contact me and we will discuss your requirements. No matter if business or private.